Posts for tag: dental implants
By Si McAninch, DDS, PA
April 17, 2017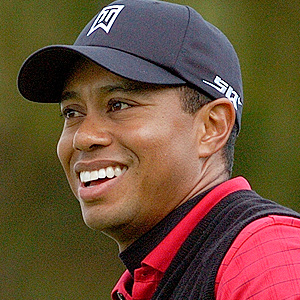 Let's say you're traveling to Italy to surprise your girlfriend, who is competing in an alpine ski race… and when you lower the scarf that's covering your face, you reveal to the assembled paparazzi that one of your front teeth is missing. What will you do about this dental dilemma?
Sound far-fetched? It recently happened to one of the most recognized figures in sports — Tiger Woods. There's still some uncertainty about exactly how this tooth was taken out: Was it a collision with a cameraman, as Woods' agent reported… or did Woods already have some problems with the tooth, as others have speculated? We still don't know for sure, but the big question is: What happens next?
Fortunately, contemporary dentistry offers several good solutions for the problem of missing teeth. Which one is best? It depends on each individual's particular situation.
Let's say that the visible part of the tooth (the crown) has been damaged by a dental trauma (such as a collision or a blow to the face), but the tooth still has healthy roots. In this case, it's often possible to keep the roots and replace the tooth above the gum line with a crown restoration (also called a cap). Crowns are generally made to order in a dental lab, and are placed on a prepared tooth in a procedure that requires two office visits: one to prepare the tooth for restoration and to make a model of the mouth and the second to place the custom-manufactured crown and complete the restoration. However, in some cases, crowns can be made on special machinery right in the dental office, and placed during the same visit.
But what happens if the root isn't viable — for example, if the tooth is deeply fractured, or completely knocked out and unable to be successfully re-implanted?
In that case, a dental implant is probably the best option for tooth replacement. An implant consists of a screw-like post of titanium metal that is inserted into the jawbone during a minor surgical procedure. Titanium has a unique property: It can fuse with living bone tissue, allowing it to act as a secure anchor for the replacement tooth system. The crown of the implant is similar to the one mentioned above, except that it's made to attach to the titanium implant instead of the natural tooth.
Dental implants look, function and "feel" just like natural teeth — and with proper care, they can last a lifetime. Although they may be initially expensive, their quality and longevity makes them a good value over the long term. A less-costly alternative is traditional bridgework — but this method requires some dental work on the adjacent, healthy teeth; plus, it isn't expected to last as long as an implant, and it may make the teeth more prone to problems down the road.
What will the acclaimed golfer do? No doubt Tiger's dentist will help him make the right tooth-replacement decision.
If you have a gap in your grin — whatever the cause — contact us or schedule an appointment for a consultation, and find out which tooth-replacement system is right for you. You can learn more in the Dear Doctor magazine articles "Dental Implant Surgery" and "Crowns & Bridgework."
By Si McAninch, DDS, PA
April 09, 2017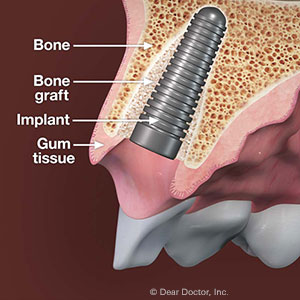 Dental implants are considered the best tooth replacement option available. An implant replaces the root of a tooth and allows for the replacement of the crown via attachments or abutments. They not only look like a real tooth, they function like one too.
Implants, though, for some are a significant investment and may be well beyond a person's financial means if they've experienced a sudden tooth loss. For that reason, many opt for a less expensive tooth replacement option like a removable partial denture.
Later when they can afford it, a person might consider an implant. But this could pose a complication. When a tooth is missing for some time, the underlying bone doesn't rejuvenate normally because it no longer receives stimulation from the tooth. Over time, the amount of bone may diminish. Restorations like dentures can't stop this bone loss and actually aggravates it.
For proper positioning, an implant requires a certain amount of bone volume. So, it's quite possible when the time comes to replace the old restoration with an implant that there may not be enough bone available.
We may be able to overcome this bone loss with bone grafting and regeneration. A specialist such as a periodontist or oral surgeon accesses the area surgically and inserts bone graft material, usually processed material that's completely safe. Properly placed, the bone graft serves as a scaffold that, along with growth stimulators, encourages bone cells to grow.
When the bone grafting has healed enough, we're then able to place the implant. Once imbedded in the bone, one of the implant's unique qualities comes into play. The imbedded post is made of the metal titanium, which is not only bio-compatible with body tissues, it also has an affinity with bone. Bone cells will easily grow and adhere to the implant surface. This further boosts bone growth in the area and strengthens the implant's hold.
These extra procedures to build back lost bone do add to the cost and time for installing an implant. But if you're ready for a more permanent restoration for a missing tooth — not to mention better bone health — the extra time and money will be well worth it.
If you would like more information on dental implants, please contact us or schedule an appointment for a consultation.
By Si McAninch, DDS, PA
March 10, 2017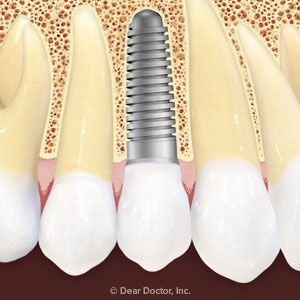 What's so special about dental implants — and why should you consider one to replace a missing tooth?
Although they've only been widely available for thirty years, dental implants have climbed to the top of tooth replacement choices as the premier restorative option. Since their debut in the 1980s, dentists have placed over 3 million implants.
There's one overriding reason for this popularity: in structure and form, dental implants are the closest replacement we have to a natural tooth. In fact, more than anything else an implant is a root replacement, the part of the tooth you don't see.
The artificial root is a titanium post surgically imbedded into the jaw bone. Later we can attach a porcelain crown to it that looks just like a visible tooth. This breakthrough design enables implants to handle the normal biting forces generated in the mouth for many years.
There's also an advantage in using titanium dental implants. Because bone cells have a special affinity to the metal, they will grow and attach to the implant over time. Not only does this strengthen the implant's hold within the jaw, the added growth also helps deter bone loss, a common problem with missing teeth.
It's this blend of strength and durability that gives implants the highest success rate for any tooth replacement option. Over 95% of implants placed attain the 10-year mark, and most will last for decades.
Dental implant treatment, however, may not be possible in every situation, particularly where significant bone loss has occurred. They're also relatively expensive, although more cost-effective than other options over the long term.
Even so, implants can play an effective and varied role in a dental restoration. While single implants with attached crowns are the most common type of replacement, they can also play a supporting role with other restorative options. As few as two strategically placed implants can provide a more secure connection for removable dentures or fixed bridges.
You'll need to first undergo a thorough dental examination to see if implants could work for you. From there, we'll be happy to discuss your options for using this "best of the best" restoration to achieve a new, beautiful smile.
If you would like more information on dental implants, please contact us or schedule an appointment for a consultation. You can also learn more about this topic by reading the Dear Doctor magazine article "Dental Implants 101."